Methodology
Research
I start by making sure there is a clear objective and brief for the project as this is the main focus of everything that follows. Everything should push towards making this objective happen.
I then start researching the topic and learning about the project. It's all about understanding the problem you are solving. I talk to the client, read around the topic, check forums and find reviews for similar problems.
Using both the objective and the topic research I create a survey or interview questions to find out what real users think about the topic and find any traits they may have. I make any changes needed to the objective and brief that have been raised from the response of the user research.
Creating personas and user scenarios using the research is a great way to get into the mind of your users. I find that user scenarios are an easy way to check that the design is on the right track, especially when checking the user journey.
Sketching
Sketching allows a free flow of ideas, there is no erasing and no grids to follow. Anything goes. This allows you to quickly explore different ideas and experiment with unique layouts.
I like to start by doing a timed sketch. I set a timer for about 5 mins and sketch out an idea. I repeat this a minimum of 4 times. This technique allows you to not worry about the details as you don't have time.
Once I have a few ideas I like, I expand on these by spending more time looking at the brief and making sure the sketches meet the objective and user scenarios.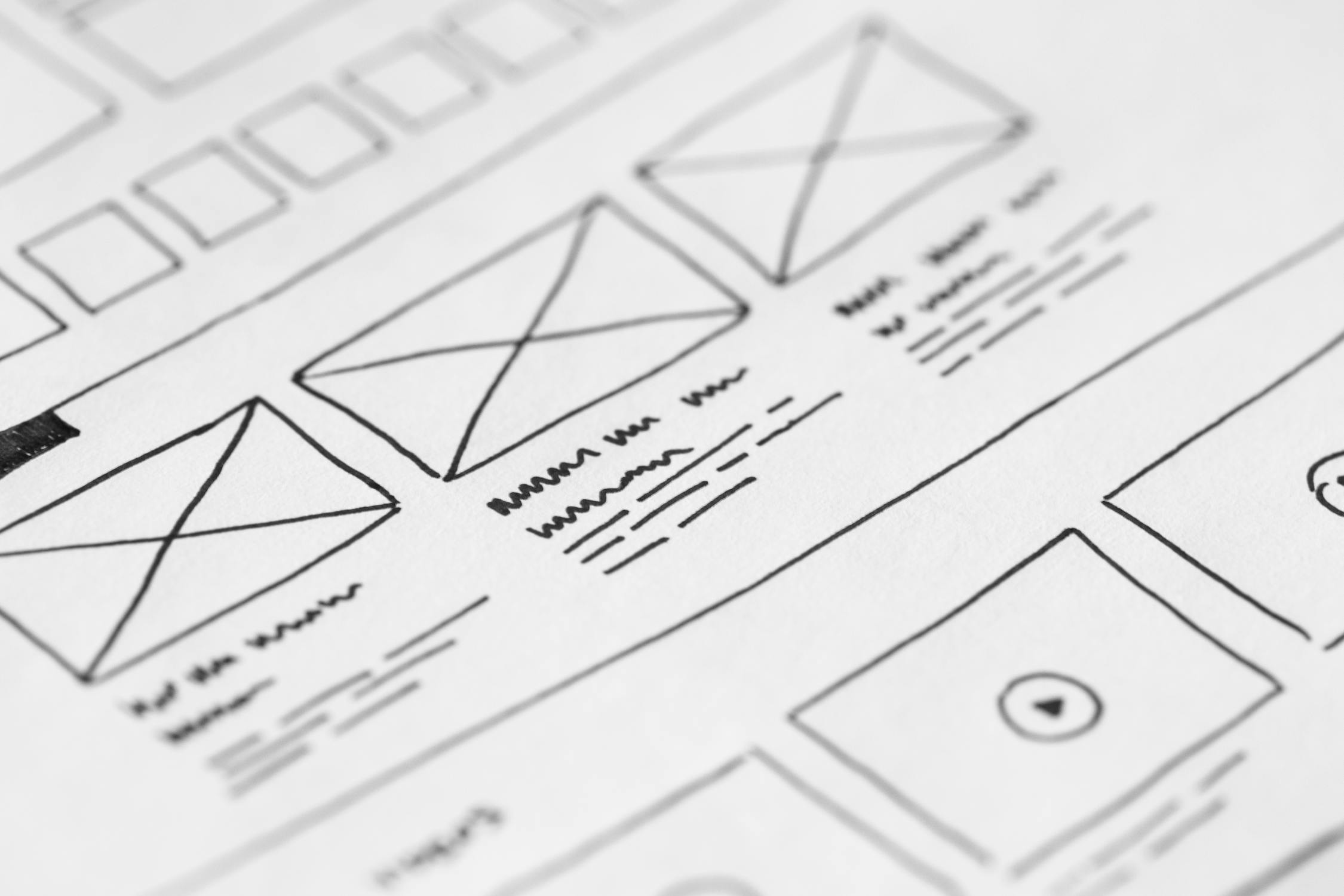 Wireframes
Turning rough sketches into wireframes allows you to flesh out the ideas and see how well they actually work.
I personally don't like using detailed UI kits at this stage as the visual design distracts from the structure and user journey. I prefer use very basic UI elements like buttons, panels, menus, etc to expand on the sketches.
I am always making sure the wireframes meet the objective and user scenarios.
Lo-fi prototypes
Creating low fidelity prototypes helps you feel how the project will flow. It allows you to scroll through the pages, swipe through the list of cards, play with the drop down menu, etc.
With this being a quick process it's a good way to get something out the door for users to test to make sure the designs are meeting the objective and user scenarios. As the prototypes have a rough visual design it helps the tester not get distracted by colours or fonts and so they can easily focus on giving feedback on the experience and journey.
Visual design
Now that we have a solid idea of how the project will be structured we can start to make it look beautiful whilst keeping it functional.
Getting inspiration from other designs and creating a moodboard to follow helps keep the style consistent.
I make sure to either sticking to the brand guidelines if they exist or create a set of guidelines for the next project to follow.
The visual design has to be accessible to everyone. This includes checking the colour contrast is strong enough and that tap targets are large enough.
Hi-fi prototypes
This part is about designing interactions and animations. When designing interactions I keep in mind the user scenarios and try to make all interactions have a purpose. This includes decreasing perceived load times and using animation to hint at how an element can be interacted with.
Once happy with the prototypes you can then test them with your users.
Design specs
It's important to be able to share something that the dev team can understand. Having a development background I understand how to pass designs over giving details of typography, spacings, animations, etc.